Cabinetry is an essential part of any kitchen design. It represents both form and function, determining your kitchen layout and how much storage you have as well as influencing the style of your remodel.
This year, kitchen design is more exciting than ever. Kitchen cabinetry is becoming evolved as fluted finishes, glass, mixed materials, and bold colors take center stage.  White kitchens have always been popular and remain a classic choice, but homeowners are also considering other styles and ruling out some of the trends that have been dominant in kitchen design in recent years.
Keeping up to date with functionality and style trends increases the longevity of your kitchen remodel and also improves its chances of resale. Mixing the latest innovation with classic elements results in a well-balanced look that you can inject with your unique style.
Starting your design with a plan for your kitchen cabinets sets the tone and style of your kitchen remodel. This makes it easier to choose features for the rest of your space, such as countertops, tile, and cabinet hardware. Let's explore some of the top trends in kitchen cabinet design.
Customize Your Storage
Storage is a key feature of any effective kitchen design, and customization is a way of taking your storage from adequate to deluxe. Think about what you need to store in your kitchen design and where you will need to access it. Create zones for every function you require in your kitchen and be sure to include storage solutions to meet those needs. This could include zones for cooking, baking, cleaning up, entertaining, and more.
Built-in storage solutions provide a seamless haven for all your kitchen essentials, ranging from spice jars to cooking equipment. Cabinetry can create customized space for a beverage bar with storage for all your drink supplies. It can also be equipped with room to easily store small appliances, dishes, pots and pans, pantry essentials, and much more.
You can conceal everything from appliances to technology in a super stylish way with pull-out, slide-out, and swing-out solutions. Drawer inserts or peg storage systems turn kitchen drawers into an ideal storage space for everything from coffee cups to pot lids. Even something as simple as a condiment drawer means everything is close at hand and your kitchen remains clutter-free. Installing a cooktop on an island with high-end customized storage transforms your kitchen remodel into a restaurant-style space, with efficiency and class.
Include Fluted Detailing
Fluted detailing is becoming increasingly popular to enhance the style of kitchen cabinets and drawer fronts. It's a scallop-shaped ridge design that is repeated on the front of drawers, cabinet doors, and even wall paneling. It's a look that dates back to ancient Egypt and has a hint of Art Deco design with its undulating curves. It brings texture and warmth to a remodel that needs an added dimension.
It won't overwhelm a space when used in the right context. Adding curved edges to a design with fluted detailing gives your kitchen design a calming flow and modern feel. Fluted detailing on cabinets is perfect in natural wood finishes. If you are going with a transitional style design, then a painted finish emphasizes the curves of the detailing to make it a focal point.
Incorporate Stained Glass Panels
If you want to give your kitchen design a unique touch, consider including stained glass panels in some cabinet doors, which brings a touch of elegance to a kitchen remodel. Modern versions of this trend incorporate simple patterns and color schemes that bring a focal point to your cabinet design. A Craftsman-style touch can be brought to any type of design to add color, depth, and interest while lightening up a bland bank of cabinetry. Consider the color of your cabinetry when choosing shades for stained glass, to create a cohesive kitchen design style with a modern feel.
Embrace Wood as Your Cabinet Material
Nothing beats the appeal of natural wood when it comes to creating a stylish and welcoming home. In a kitchen design, where your space is dominated by cabinetry, wood cabinets are a top choice for a classic, stylish space. Simple, sleek doors focus on the natural beauty of woods like walnut or cherry.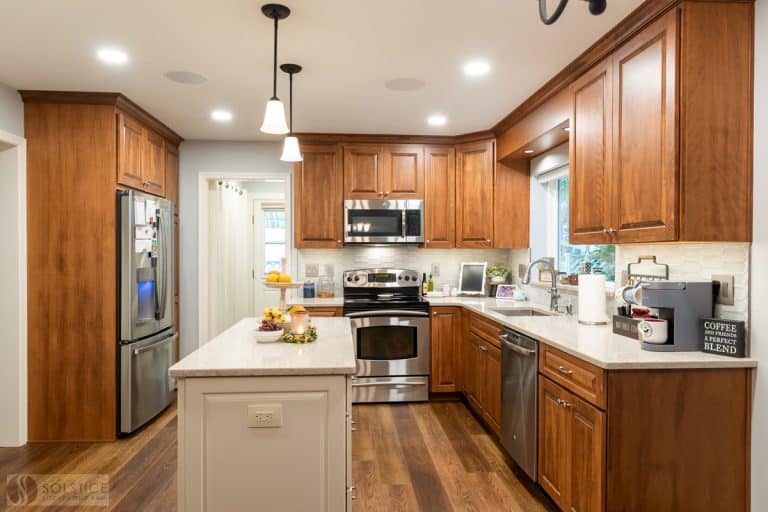 The wood can be treated to further enhance the grain's appearance. The rustic, inviting atmosphere of natural wood finishes was big in 2022 and is set to increase in popularity this year. Natural wood panels concealing appliances work really well with natural stone floors to give a sophisticated look to your kitchen remodel. Dark-stained wood cabinetry is becoming more popular for kitchen design, as it works to counterbalance saturated color schemes and gives a comforting, vintage feel.
Make a Feature of Your Hardware
Kitchen cabinet hardware is like the jewelry that accents your cabinet design style. Unique kitchen cabinetry hardware is playing a larger role in customizing a look for your design. Handleless cabinet doors are still on trend, but a sleek, free-flowing look can still be achieved with recessed handles. Slab doors look especially good with the subtle detail of recessed handles.
Focusing on cabinet hardware is on the rise as different materials are coming to the fore in cabinet design. Choose a material for knobs and pulls that makes a feature out of both the door and the handle with the twist of unexpected combinations. You can also customize your door with a color that complements your choice of hardware. Try mixing warm and cool tones such as a dark finish cabinet door with warm gold hardware.
Using warm colors and textures makes your kitchen design feel welcoming. Tortoise shell or copper handles are just an example of unusual and warm hardware that can be echoed in other places such as lighting, pots and pans, or barstools.
Go For a Softer Aesthetic
Kitchen cabinet design is moving away from sharp edges and super glossy finishes. This year is about warmth and curves for a feeling of coziness. Wood tones are more apparent on frameless, slab cabinet doors, particularly with honed and leathered finishes rather than glossy finishes. This trend is about the interesting use of textures and colors. Curved edges draw the eye to promote a sense of flow throughout the room. A chic look such as Mid-Century Modern is all about a structured but curvy aesthetic with warm colors. Stick to subtle neutral or warm natural tones for your color scheme, emphasize natural materials, and add curved edges throughout your kitchen design to embody this softer style aesthetic.
Factor Cabinetry into Your Lighting Plan
Lighting affects the tone and mood of a kitchen design at the flick of a switch. It can also change the look of your cabinets as well as how you use the area around them. Lighting has moved up a gear when it comes to kitchen cabinet design. A layered lighting scheme means you can have different functions with fewer fittings.
Incorporating lighting on top of your kitchen cabinets gives off a softer light and creates ambiance in your kitchen design. Placing task lighting to focus on countertops is practical and then the light level or even the color can be changed later via smart controls for an aesthetic effect that takes you from task to ambient lighting. If you illuminate base cabinets from underneath, it gives a floating effect whether it's an island or a bank of wall cabinets.
In-cabinet lighting enhances your cabinet's functionality, making it easier to see and access contents. In glass front cabinets, it also transforms your cabinets into a stunning display space.
Try a Contemporary White Design
White kitchen designs are still a classic choice that never goes out of style. Still, current trends see a move toward adding color to a white kitchen design, and kitchen cabinets are a great way to introduce these colorful flourishes.
In a two-toned design, designers are trying alternate shades of white and color on cabinet doors to achieve a sophisticated and stylish kitchen design. Black and white is a classic combination for this two-toned look. Other popular pairings are white with gray, blue, or green. Deep green and blue are being paired with brass hardware, which also works well with the white cabinet doors for a striking cabinet style.
Bring in Tonal Cabinetry
The trend of pairing upper and lower cabinets in different colors has evolved into more of a tonal affair. Take a lighter shade and pair it with an enriched version of that same color in another part of your cabinet design. Neutrals can veer to grays, browns, or greens, depending on their undertones.
Islands can also make a design statement with this look. Go for an island in a statement, deep color, and keep your wall cabinets lighter for a calming backdrop in your kitchen remodel. Baby and royal blue, mint and sage green, and sandy shades are all popular as calming colors in kitchen design. For richer shades of cabinetry, dark green, blue, black, and merlot are on trend.
Make a Statement with Your Island
Statement islands are going from strength to strength in today's kitchen designs. There are many ways to create an island that becomes a clear focal point in your room. Color is one way of differentiating your island cabinets from the rest in your kitchen remodel. It's an easy way of making your island stand out as a design feature while storing essentials.
There are other ways of making a feature of your island in your kitchen design. Try lighting to emphasize your island. Long lighting rails or oversized pendants shine down onto an island that can be used for a workspace or dining area. If you have two islands, then you could choose different lighting styles over each one to differentiate work and entertainment zones. Countertop materials and cabinet doors can also contrast or complement each other. You can create a focus on an island with color, materials, and lighting as long as it works with your kitchen design as a whole. If it seems incongruous, then your kitchen will not feel cohesive.
Kitchen cabinet design is embracing color and a softer aesthetic at the moment. Minimalism is still a top trend, making custom storage essential for an uncluttered kitchen remodel. Using color and lighting in different ways to enhance your cabinet design is a top choice to create a one-of-a-kind look that embodies your home's style. Investing in quality, interesting materials is also shaking up the world of cabinetry. Contact us today to find out more about how updating your kitchen cabinet design can express your style while also enhancing your kitchen's functionality.